Accessing the Device Control Panel
To manage your 2-Step devices:
Go to Manage 2-Step Verification page in CalNet Account Manager. 
2-Step authenticate using one of your devices (in the example below, the user can choose Call Me, Passcode or Duo Push)
Once authenticated, you will see the Device Control Panel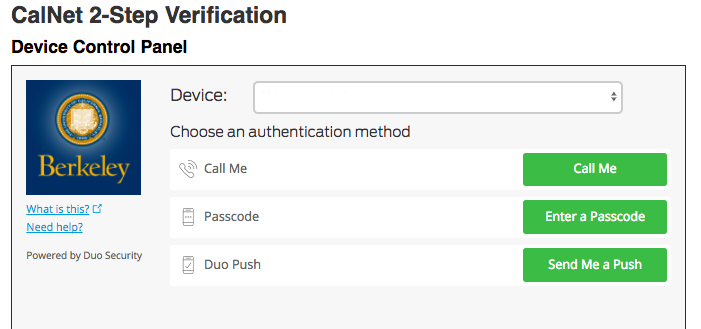 Adding Another Verification Device
Once you've enrolled a primary device, log back into the CalNet Account Manager at a later time to add another.
You will be prompted to 

Choose an Authentication Method 

(rather than 

Start

) in the 

Device Control Panel

Choose 

Passcode

 or 

Duo Push 

to authenticate with Duo, which will take you to 

My Settings and Devices

Select 

Add Another Device

 and begin the enrollment process.