Important Notes about using the Guest Application
Email addresses that are already affiliated with any type of CalNet account cannot be used to create a new guest. If you attempt to sponsor a guest who's email is already affiliated with a CalNet account, you may not get an error message -- but, your guest will not be able to activate their account. In this case, contact calnet@berkeley.edu for additional assistance.
Guests who attempt to activate their account and experience an error that their token is invalid will need to be deleted and re-invited. You must email calnet@berkeley.edu and ask to have the guest deleted in order to reinvite them.
Although it may appear that sponsors can delete guests in the guest application, doing so does not actually delete delete guests from the CalNet system. If you need to delete a guest, email calnet@berkeley.edu to request assistance.
The guest application is old and buggy, but as long as you are patient with it and email calnet@berkeley.edu if you experience trouble, you should be able to invite guests as you need to.
If you extend a guest, it can take up to an hour to take effect. You cannot extend a guest that has already expired.
---
How do I sponsor a Guest?
A sponsor needs three pieces of information in order to invite a Guest:  First name, Last name and their non-Berkeley or personal email address. Follow the instructions below to create a guest account.
Instructions for Creating a Guest Account
2.  Click on Invite Guest.
3.  Enter First name, Last name and their non-Berkeley or personal email address.
4.  Select Reason to Sponsor from the Pull Down menu.
5.  Select the Expiration Date.
6.  Check the Policy box.
7.  Click Submit.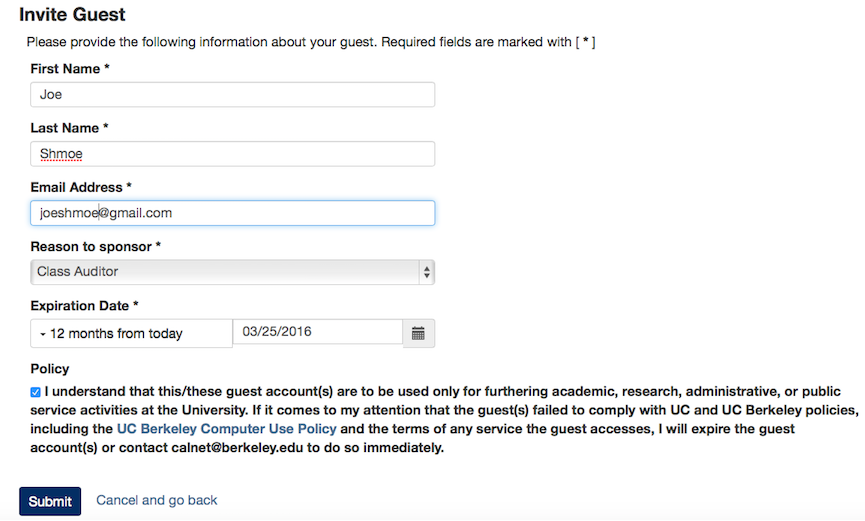 How do I extend an existing Guest?
You must be the CalNet Guest account's sponsor in order to extend the Guest. A sponsor can extend a Guest for up to one year at a time. To extend a Guest, log in to the CalNet Guest account creation application and:
 Click on the arrow on the right hand side of your guest's information:
 
 Click 

Change Expiration

 from the pull down menu.
 Click on the 

calendar

 from the pop up window.

Select the new expiration date by clicking a date on the calendar.
Click the 

Update

 button at the bottom of the pop up window to confirm. 
If this feature does not work, please contact CalNet Administrators at  
calnet-admin@lists.berkeley.edu

(link sends e-mail)
 to request that CalNet Guest account be extended for you, and indicate the length of the extension (up to one more year).
Can I transfer my Guest to a new sponsor?
Guests cannot be transferred from one sponsor to another. If you wish to sponsor a guest who already has an account, the existing account must be deleted before you can do so. Email calnet@berkeley.edu to have the existing account deleted.
Please note: when a CalNet Guest is re-sponsored by a new employee, the Guest's UID and CalNet ID will change, he or she will have to go through the process to create a new passphrase, and he or she will have to re-request access to any services they had access to via their previous CalNet ID.
---
When will my Guest expire?
Guest account sponsorship duration may be any amount of time from one week to one year from the creation date. When a guest account expires, it must be deleted by the CalNet team before the guest can be re-invited. If your guest expires, email the guest's UID to calnet@berkeley.edu for assistance. You can extend your guest BEFORE it expires using the Guest Account app.
---
Can I delete a Guest?
No, you will need to contact calnet@berkeley.edu for assistance. The GuestApp may make it appear that you can delete a guest yourself, but the deletion will not move across all systems.
---
Can my Guest use bCourses?
Adding Guests to bCourses falls under the purview of the bCourses support team. Contact the bCourses Request Help page for assistance.
Before you attempt to add a Guest to bCourses: Your Guest must successfully activate their CalNet Guest Account before you add them to your course in bCourses. Your Guest will use their CalNet Guest ID and passphrase to access bCourses as well as other campus CalNet-based web services.
---
Can I convert my Guest to another type of account?
No. Guest accounts cannot be converted or combined with other CalNet accounts.