Welcome, CalNet Guest!
Click a link to jump to that section:
---
How do I activate my CalNet Guest account?
After your sponsor creates a CalNet Guest account, an invitation will be sent to your personal or non-Berkeley email address. Click the link inside the email to accept the invitation and Activate your CalNet ID.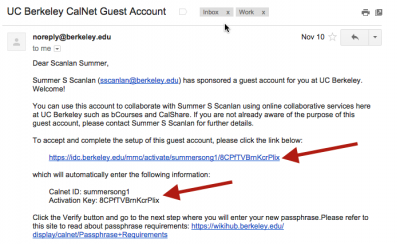 Please note: you can use the Activation Key only one time. The Activation Key is temporary and expires 14 days after the invitation is sent. The Activation Key is NOT your CalNet passphrase. 
If you need to, you can copy and paste your CalNet ID and Activation Key from the email and paste into the appropriate fields in the Activate CalNet ID application. Press Verify to move on to setting your passphrase.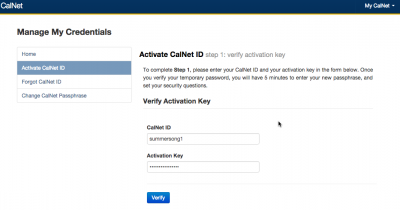 Your CalNet passphrase must follow the requirements listed at: Passphrase Requirements. Enter your new passphrase twice, and click the box to accept the UC Berkeley Usage Agreement. Then, click the Activate CalNet Account button.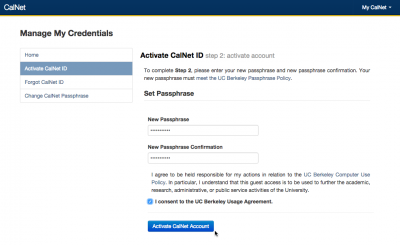 Once your CalNet ID and passphrase have been created, you will use them to log in to campus services and applications. Your Application Key is not valid after you have set your CalNet ID and passphrase. Please be sure to choose a passphrase that you will remember.
---
How do I change my Guest account passphrase?
If you attempt to use this tool and are unsuccessful, contact the Cal1Card office (https://cal1card.berkeley.edu/contact) or your CalNet Deputy for assistance.
First, navigate to mycalnet.berkeley.edu and click the link to Forgot My CalNet ID / Passphrase

Next, enter your Recovery Email Address in the box. Check the box to verify that you are not a robot, and then press the Request Reset button.

In a few minutes, you will receive an email containing reset instructions.
Note: If you are a CalNet Deputy assisting a user and need to know if they have a Recovery Email Address, look them up in the CalNet Admin Tool (CAT). See the Deputy Toolbox for additional resources.
---
How do I update my Directory information?
Go to http://www.berkeley.edu/directory, click on the Update your Listing button, click on the Authenticate button, enter your Calnet Guest ID and passphrase, click the Edit Person or Address Information button, Enter personal contact information as desired and click Update at the bottom left hand side of the page.  This CalNet Directory Information will only be available to certain programs applications and it is not public. Therefore, if you or others try to "search for people" using your information, no results will display.
What if I don't get an invitation?
There are several reasons you may not get an invitation for a Guest Account. If you already have a guest account; if your email address is affiliated with another CalNet account; if your email address handle is all numeric (such as 12345@service.com); or if your sponsor has not sent an invitation, you will not see the invitation in your email inbox. First contact your sponsor to determine whether the invitation was sent, and to what email address. Then contact calnet@berkeley.edu with your full name and email address, if additional assistance is needed.
Can I reuse my Guest CalNet ID for a different type of Account? Affliate Account, Student Account, etc?

No, once a calnet id is used on a record it can't be reused.