Students, employees, UCPath affiliates and Student-Delegates can use CalNet Account Manager (CAM) to manage their CalNet accounts.  You must have a Recovery Email Address on your CalNet record in order to reset a forgotten passphrase.  Find detailed instructions for using CAM below.
---
Manage Your CalNet Passphrase
Follow these simple steps to keep your passphrase secure and your CalNet account accessible:
Review and update or add a Recovery Email Address
Change your Passphrase to meet the CalNet Passphrase Requirements. Do not reuse this passphrase for any other account!
Sign up for a free LastPass Premium account to keep your passwords safe.
---
Detailed User Instructions
---
This tool allows users who *know* their existing passphrase to change it.  
Review CalNet Passphrase Requirements

Log in to Calnet Account Manager
Click Set a New Passphrase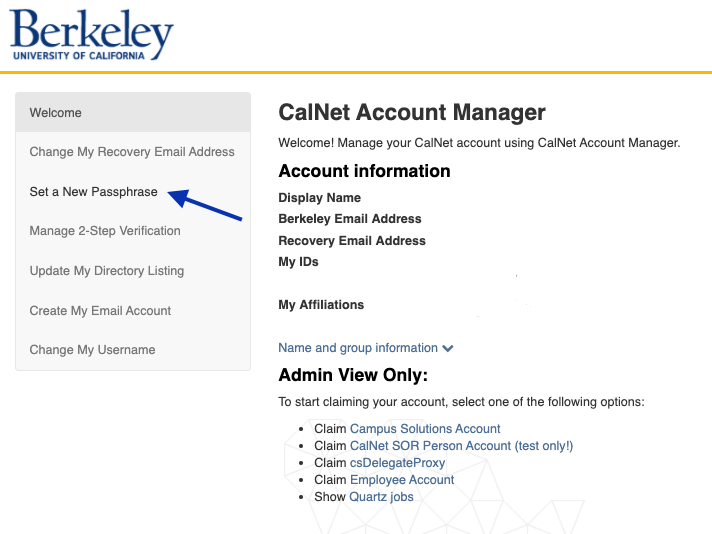 4. Enter your current passphrase
5. Decide wither you want a regular passphrase, or long passphrase; check the box accordingly
6. Enter your new passphrase
7. Enter your passphrase a second time
8. Click the Change my passphrase button
A green confirmation message will display that indicates your passphrase has been successfully changed.
---
A Recovery Email Address is required to use the self-service tools at mycalnet.berkeley.edu. It is the address that receives all account change notifications. You cannot reset a forgotten passphrase yourself, if you do not have a Recovery Email Address on file!
1. Log in to Calnet Account Manager
2. Click Change My Recovery Email Address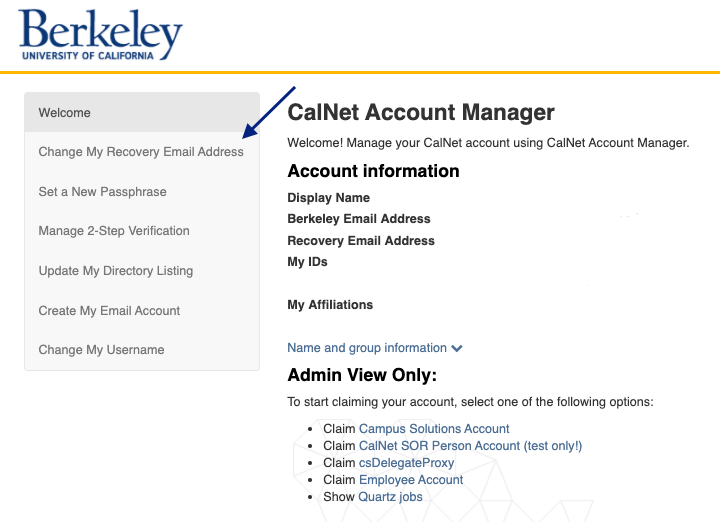 3. Enter your non-berkeley.edu email address in the New recovery Email Address field
4. Press Change

5. Navigate to the inbox of the email account listed in step 3
6. Find the email from CalNet, "Confirm external email address change," and open it
7. Click the Confirm email address button (within three days, or the button will expire)
Note:  If you do not have a Recovery Email Address, you will see a grey box in the change form (as above). If you already have a Recovery Email Address, it will be partially displayed.
---
Change My Username
You are allowed to change your username (CalNet ID) only once, so choose wisely. Your email address will be updated to match your new CalNet ID.
There are other ramifications to changing your CalNet ID -- access to some campus systems may break. Read through the Change CalNet ID documentation before proceeding.

1. Log in to mycalnet.berkeley.edu 
2. Click Change My Username. CalNet ID requirements will display on the page for easy reference
4. Enter your new CalNet ID and your passphrase, then press the Change My CalNet ID button.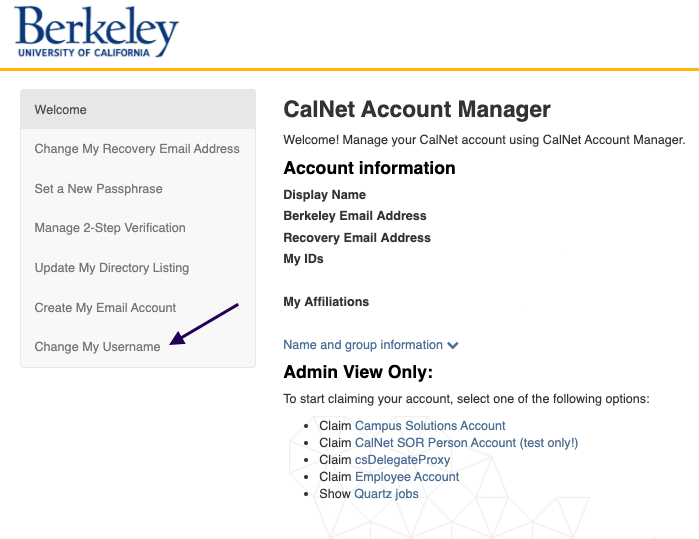 ---
Forget My CalNet ID / Passphrase
To use this feature, you must have a Recovery Email Address in the system. If you attempt to use this tool and are unsuccessful, email calnet@berkeley.edu for assistance
1. Navigate to mycalnet.berkeley.edu and click the link to Forgot My CalNet ID / Passphrase
2. Check the box next to "Student ID" "UCPath ID" or "Recovery Email" to select which ID you will use to reset your passphrase
3. Enter your corresponding Student Number, UCPath ID Number or Recovery Email Address in the box.
4. Check the box to verify that you are not a robot
5. Press the Request Reset button.
If you have a Recovery Email Address in the system, you will receive an email to that address containing reset instructions.
---