Jump To...
---
Activate your LastPass Business account
Install Browser Extensions and Mobile Apps
Users should prepare their browser to use LastPass Business by going to the LastPass Download webpage and downloading the appropriate plug-on or browser extension: https://lastpass.com/misc_download2.php
Activate Your Account
Departmental LastPass Business administrators will invite users to their instance. The email invitation will come from LastPass <do-not-reply-support@lastpass.com> and will include an activation code for users to activate their account and set their Master Password.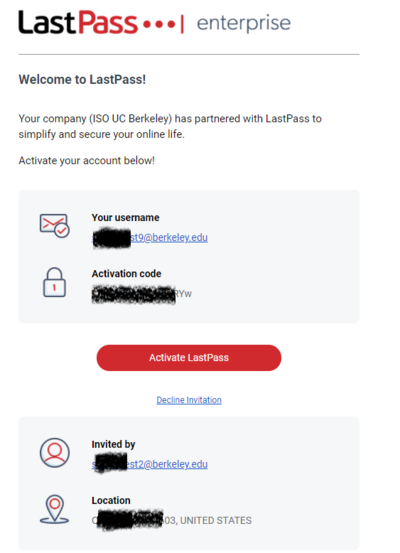 Click on the Activate LastPass button to start.  Users will be asked for their Activation code and to create a master password.
Set Your Master Password
For security purposes, the master password must be a strong, complex password.
Set Up Duo MFA
After the Master Password is set, log in again and click the link to verify your Duo Security setup. You will be asked to provide your CalNet ID on the next screen, and complete a Duo Security challenge before being logged in to LastPass Business.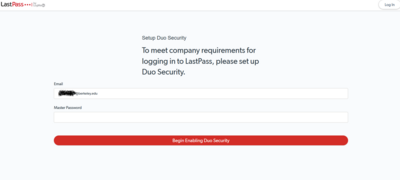 Link Personal Account
ISO offers LastPass Business users the option to link a personal account to their Business account.  This is entirely voluntary and is not required.  When a user completes their first login, they will be prompted to set up a linked account.
Additional information on Linked account
Both the linked personal account and the Business account are encrypted, with different encryption keys.  When linked, the Business account can view data within the personal account but not vice versa.  The linked personal account can be any "free" or "premium" account.  Free LastPass Premium accounts are available to anyone with a valid berkeley.edu email address thanks to Premium as a Perk.  LastPass cannot auto-create a "premium" account for any entity, since the end-user will always need to define the master password for encryption and access. 
Browser Extensions and Mobile Apps
If you have not yet done so, install Browser Extensions and mobile apps. Downloads for plug-ins or add-ons for other browsers and operating systems can be downloaded at the LastPass Download webpage https://lastpass.com/misc_download2.php
Set Up Recovery Options
It is extremely important that you set up recovery options for your account.  https://support.logmeininc.com/lastpass/help/how-do-i-set-up-all-account-recovery-options-for-lastpass details all recovery options.  At a minimum, we recommend using the LastPass browser extension. Signing in to LastPass using the extension regularly will ensure that your administrators can help you reset your Master Password, if you forget it.
Managing Sharing and Shared folders
In order to share credentials with team mates, you need to first create a shared folder, and then share the folder with your colleagues.
Create a LastPass Business shared folder - LastPass Support
About LastPass Business Shared Folders - LastPass Support
Add and Manage LastPass Business Groups - LastPass Support
A note about shared folders: Your department LastPass Admin will NOT automatically have access to your shared folders. In order to ensure that access to a shared folder is not lost when a user leaves campus, please consider adding your department Admin to your shared folders.
Training and Support
LastPass Video Tutorials
Online Training
Support