Simple OTP (one-time password) hardware tokens are available at no cost for anyone required to do the CalNet 2-Step, when another device (such as a smartphone) is not available.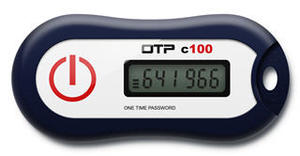 Step 1: Pick up your Simple Hardware Token
You can obtain a simple hardware token at one of the following locations during regular open hours. 
Student Technology Services
Moffitt Library, 4th floor entrance
510-642-HELP


Haas School of Business, 2220 Piedmont Ave
Front Desk, Computer Center (Room S300)
M-F,  9:00 am-noon; 1:30 pm to 4 pm
Contact: Edwin Khu
510-316-2404
edwin_khu@haas.berkeley.edu
Employees and graduate students may also obtain a token from:
Academic Innovation Studio
Dwinelle 117 (Level D)
M-F, 9am - 5pm


Retirees who subscribe to Retiree bMail Service can obtain a token from:
UCB Retirement Center
101 University Hall
M-F, 1pm - 4pm
(510) 642-5461 -- Call ahead before stopping by to ensure staff is available to assist you

If you are an IT support person on campus, you may pick up to 10 tokens to distribute to colleagues in your department.
Step 2: Register your Simple Hardware Token
Register your token using this form: https://docs.google.com/forms/d/e/1FAIpQLSdk6SWJGMMzuJQwIUJ9y-eWcCS4bdGyIeycfXyW6yUa-zPLMQ/viewform


You will receive an email notification when your token is registered.
Step 3: Verify 2-Step is On
Once you have received confirmation that your token is registered, go to mycalnet.berkeley.edu's Manage 2-Step Verification page to verify that 2-Step is on. Note: once you log in to the Device Control Panel, you will see your token listed under My Settings and Devices with the serial number.

Before leaving mycalnet.berkeley.edu, please take a moment to click the blue Get Backup Passcodes button, and print your codes. Click here to find out more about backup passcodes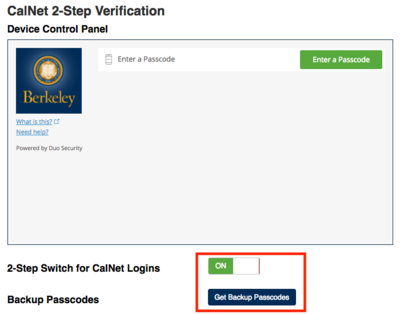 Step 4: Use your Token
Now that your token is registered, use it next time you log in to CalNet.
Enter your CalNet ID and passphrase to log in as usual to the CAS screen

The 2-Step screen will appear

Click the Enter a Passcode button.
Next, press the red power symbol on your simple hardware token. A numerical code will appear on the token's screen. Note: if you hold down the red button too long, all 8s will display. Let the token be for a few moments until the screen clears, and try again.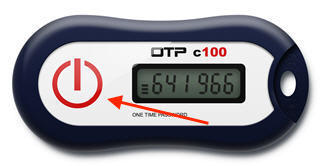 Type the code that appears on your token into the field for the passcode

If you want this web browser on this computer to remember you and not prompt you for 2-Step for 30 days, click the checkbox to Remember me...

Click Log In.
Ta da! You have successfully done the 2-Step.
Tokens for Support Staff
IT support staff may get up to 10 tokens for distribution within their department.  To requeset 10 tokens, email calnet2-stephelp@berkeley.edu to coordinate a pickup.